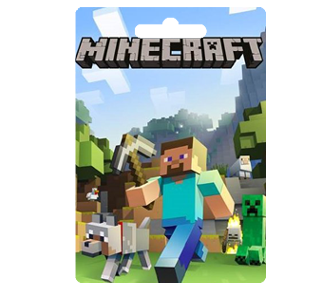 Get it for 5.500.000 BetCoins
Register or log in to request gifts
Get Free Minecraft Premium for PC (Computer). It is sent via a redeemable code to your email.
Minecraft is undoubtedly one of the most demanded games in Betsuites, and is that the famous game of Mojang far from disappearing over time, grows and increases the desire of any Internet user to download Minecraft premium for free.
What is Minecraft Premium?
It is a game that although it can be played offline, is famous for its online games of the hand of youtubers like Willyrex, Vegetta777, perxitaa and many others.
It consists of constructions through blocks of different materials with the main purpose of surviving and even coexisting with other players in the facilities that they are building, because it is about collecting materials to create even cities.
Another of the game modes is called PVP or Skywars where with a defined armor and construction materials you will fight against other players on a map with the goal of being the last survivor and take the victory.
The game modes are many and the good thing about Minecraft Premium is that within the game itself there are many private servers, which given the versatility of the game can create new and ingenious game modes. This among other things is what to this day has made it one of the most played worldwide. Since the difficulty of reinventing oneself within one's own game is something not very common, so the varieties within this world are infinite and depending on the situation you can go to build mode, PVP and even PVE, all the modalities of the great games in one.
This has always been criticized for its graphics because they have a very low quality and contrary to what you might think, is a game that consumes a lot, so make sure you have a PC / Computer that can support the load of this game, although you do not need a spaceship, you must meet some minimum requirements to be able to play it smoothly.
How to get Minecraft premium free download
We know, we know, you also want an account and have access to this wonderful world, luckily you are in the right place.
If you have already played in their free versions and want to make the leap to the premium, but want to get it for free like so many other games, we encourage you to continue playing to get it!
You have multiple ways to get minecraft premium for free, one of them and the most common is to play in our sporting events by choosing a winner and multiplying your Betcoins by the corresponding amount, you can also try your luck guessing our cheers if you think you can find the exact result of a match. If it's a big game you're sure to win enough to get the minecraft premium for free. You can also complete offers from our winning Betcoins section that will ease your way to the game you want so badly.
Simply register at the top to play and achieve your goal or keep playing if you already have an account, and when you have enough points to ask for it the option will appear. When you ask for it, make sure you put your email correctly, we will send a code that can be redeemed on the Minecraft Premium website so that you can play for free.