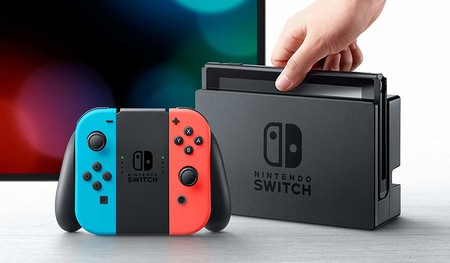 Get it for 50.000.000 BetCoins
BUY
Register or log in to request gifts
Book your Nintendo Switch now
Hard disk capacity (Gb) : 32
Includes control : SI x1
WIFI : Yes
AC charger included : Yes

Nintendo Switch is Nintendo's new home console. It combines the power of a home console with the mobility of a handheld console. In other words, it's a home console you can play with anywhere.
With Nintendo Switch, the experience of a home console is always with you. At home, Nintendo Switch rests on a base that connects the console to the TV so you can play with all your friends and family. By simply removing the Nintendo Switch from its base, it will automatically go into portable mode and the game you enjoyed will accompany you wherever you go on its 6.2-inch capacitive multi-touch screen.
Nintendo Switch is not backwards compatible with games or previous system controllers.
Nintendo Switch's freedom even expands to its control thanks to Joy-Con controllers, located on either side of the screen, which can be easily connected and disconnected with a simple click. Play alone with one Joy-Con controller in each hand; compete or co-operate with another player with one controller each; or gather multiple controllers to enjoy multiple game options.
In addition, Nintendo's new console allows more traditional control options, hooking Joy-Con to a controller stand or using the new Pro controller, and the best portable multiplayer experience with face-to-face multiplayer competitions, each with its Nintendo Switch, everywhere.
If you are outside of Spain, you will be given an Amazon check for the same amount so that you can buy it yourself, receive it earlier in your home and have Amazon guarantee against any repair or replacement.